Otterbox Wireless Powerbank 15000mAh (Black)
---
This product is also available at:
Kuwait
---
---
Share this product:
USB-A and Fast Charge USB-C Ports and Qi Wireless that allow for Multi-Device Charging.

Works With Your Favorite Cable And Apple, Samsung, LG, Google And Many Other Devices.

Works Flawlessly To Wirelessly Charge Through Your Favorite Otterbox Cases And Screen Protectors.

LED Power Indicator Displays Charging status and Battery life.

Includes: USB-A To USB-C Cable (15cm/6in) To Charge Your Device Or Recharge The Power Bank.
Suspendisse est nunc, laoreet eget odio id, finibus convallis ipsum. Praesent eu nisi egestas, gravida dolor eget, suscipit lectus. Class aptent taciti sociosqu ad litora torquent per conubia nostra, per inceptos himenaeos. Nulla tincidunt eu.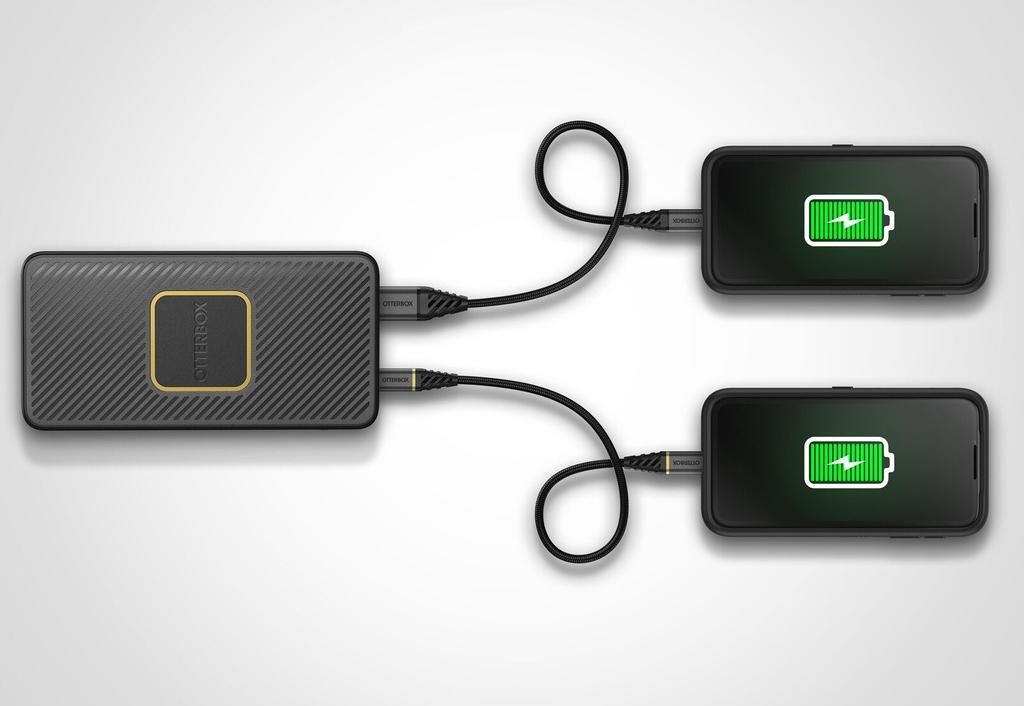 USB-A and Fast Charge USB-C Ports and Qi Wireless that allow for Multi-Device Chargin

Works With Your Favorite Cable And Apple, Samsung, LG, Google And Many Other Devices.

Works Flawlessly To Wirelessly Charge Through Your Favorite Otterbox Cases And Screen Protectors

LED Power Indicator Displays Charging status and Battery life

Includes:

USB-A To USB-C Cable (15cm/6in) To Charge Your Device Or Recharge The Power Bank

USB-A and Fast Charge USB-C Ports and Qi Wireless that allow for Multi-Device Charging

Works With Your Favorite Cable And Apple, Samsung, LG, Google And Many Other Devices.

Works Flawlessly To Wirelessly Charge Through Your Favorite Otterbox Cases And Screen Protectors

LED Power Indicator Displays Charging status and Battery life

Includes:

USB-A To USB-C Cable (15cm/6in) To Charge Your Device Or Recharge The Power Bank

USB-A and Fast Charge USB-C Ports and Qi Wireless that allow for Multi-Device Charging

Works With Your Favorite Cable And Apple, Samsung, LG, Google And Many Other Devices.

Works Flawlessly To Wirelessly Charge Through Your Favorite Otterbox Cases And Screen Protectors

LED Power Indicator Displays Charging status and Battery life

Includes:

USB-A To USB-C Cable (15cm/6in) To Charge Your Device Or Recharge The Power Bank

Works With Your Favorite Cable And Apple, Samsung, Lg, Google And Many Other Qi Wireless Enabled Devices.

Works With Your Favorite Cable And Apple, Samsung, Lg, Google And Many Other Qi Wireless Enabled Devices.

Works With Your Favorite Cable And Apple, Samsung, Lg, Google And Many Other Qi Wireless Enabled Devices.

Work s

Usb-A And Fast Charge Usb-C Ports And Qi Wireless Allow For Multi-Device Charging.

Works With Your Favorite Cable And Apple, Samsung, Lg, Google And Many Other Qi Wireless Enabled Devices.

Supports Wireless Charging Through 10w Qi Wireless Output And Works Flawlessly To Wirelessly Charge Through Your Favorite Otterbox Cases And Screen Protectors

Led Power Indicator Displays Charging Status And Current Battery Life

Usb-A And Fast Charge Usb-C Ports And Qi Wireless Allow For Multi-Device Charging.

Works With Your Favorite Cable And Apple, Samsung, Lg, Google And Many Other Qi Wireless Enabled Devices.

Supports Wireless Charging Through 10w Qi Wireless Output And Works Flawlessly To Wirelessly Charge Through Your Favorite Otterbox Cases And Screen Protectors

Led Power Indicator Displays Charging Status And Current Battery Life


Usb-A And Fast Charge Usb-C Ports And Qi Wireless Allow For Multi-Device Charging.

Usb-A And Fast Charge Usb-C Ports And Qi Wireless Allow For Multi-Device Charging.

Usb-A And Fast Charge Usb-C Ports And Qi Wireless Allow For Multi-Device Charging.

Works With Your Favorite Cable And Apple, Samsung, Lg, Google And Many Other Qi Wireless Enabled Devices.

Supports Wireless Charging Through 10w Qi Wireless Output And Works Flawlessly To Wirelessly Charge Through Your Favorite Otterbox Cases And Screen Protectors

Led Power Indicator Displays Charging Status And Current Battery Life

Usb-A And Fast Charge Usb-C Ports And Qi Wireless Allow For Multi-Device Charging.

Works With Your Favorite Cable And Apple, Samsung, Lg, Google And Many Other Qi Wireless Enabled Devices.

Supports Wireless Charging Through 10w Qi Wireless Output And Works Flawlessly To Wirelessly Charge Through Your Favorite Otterbox Cases And Screen Protectors

Led Power Indicator Displays Charging Status And Current Battery Life

Usb-A And Fast Charge Usb-C Ports And Qi Wireless Allow For Multi-Device Charging.

Works With Your Favorite Cable And Apple, Samsung, Lg, Google And Many Other Qi Wireless Enabled Devices.

Supports Wireless Charging Through 10w Qi Wireless Output And Works Flawlessly To Wirelessly Charge Through Your Favorite Otterbox Cases And Screen Protectors

Led Power Indicator Displays Charging Status And Current Battery Life

Usb-A And Fast Charge Usb-C Ports And Qi Wireless Allow For Multi-Device Charging.

Works With Your Favorite Cable And Apple, Samsung, Lg, Google And Many Other Qi Wireless Enabled Devices.

Supports Wireless Charging Through 10w Qi Wireless Output And Works Flawlessly To Wirelessly Charge Through Your Favorite Otterbox Cases And Screen Protectors

Led Power Indicator Displays Charging Status And Current Battery Life

Usb-A And Fast Charge Usb-C Ports And Qi Wireless Allow For Multi-Device Charging.

Works With Your Favorite Cable And Apple, Samsung, Lg, Google And Many Other Qi Wireless Enabled Devices.

Supports Wireless Charging Through 10w Qi Wireless Output And Works Flawlessly To Wirelessly Charge Through Your Favorite Otterbox Cases And Screen Protectors

Led Power Indicator Displays Charging Status And Current Battery Life

OtterBox Fast Charge portable wireless charger is engineered to charge and empower your day. Battery capacities range in size to give you more hours of battery power. USB-A and Fast Charge USB-C ports allow for multi-device charging, and secure wireless charging through 10W Qi Wireless output.

Features:

Specifications:

Compatible With:

USB-A, USB-C

Dimensions: 5.75 in x 2.87 in x 0.96 in / 146.05 mm x 72.90 mm x 24.38 mm

Weight: 0.99 lbs | 449.96 g

Output:

USB-C: 18W (5V/3A, 9V/2A, 12V/1.5A)

USB-A: 18W (5V/2.4A, 9V/2A, 12V/1.5A)

Qi Wireless: 10W

Input:

USB-C: 18W (5V/3A, 9V/2A, 12V/1.5A)

Storage Temperature:

14 to 140°F | -10 to 60°C

Technical Specification:

Qi Wireless

USB PD 2.0/3.0

Qualcomm Quick Charge 2.0/ 3.0

Apple Fast Charge

Port Type:

Qi Wireless Compatible Devices

Lightning to USB-C Cables

USB-C to USB-C Cables

Lightning to USB-A Cables

USB-C to USB-A Cables

Micro-USB to USB-A Cables

Usb-A And Fast Charge Usb-C Ports And Qi Wireless Allow For Multi-Device Charging.

Works With Your Favorite Cable And Apple, Samsung, Lg, Google And Many Other Qi Wireless Enabled Devices.

Supports Wireless Charging Through 10w Qi Wireless Output And Works Flawlessly To Wirelessly Charge Through Your Favorite Otterbox Cases And Screen Protectors

Led Power Indicator Displays Charging Status And Current Battery Life

Usb-A And Fast Charge Usb-C Ports And Qi Wireless Allow For Multi-Device Charging.

Works With Your Favorite Cable And Apple, Samsung, Lg, Google And Many Other Qi Wireless Enabled Devices.

Supports Wireless Charging Through 10w Qi Wireless Output And Works Flawlessly To Wirelessly Charge Through Your Favorite Otterbox Cases And Screen Protectors

Led Power Indicator Displays Charging Status And Current Battery Life

Usb-A And Fast Charge Usb-C Ports And Qi Wireless Allow For Multi-Device Charging.

Works With Your Favorite Cable And Apple, Samsung, Lg, Google And Many Other Qi Wireless Enabled Devices.

Supports Wireless Charging Through 10w Qi Wireless Output And Works Flawlessly To Wirelessly Charge Through Your Favorite Otterbox Cases And Screen Protectors

Led Power Indicator Displays Charging Status And Current Battery Life

Usb-A And Fast Charge Usb-C Ports And Qi Wireless Allow For Multi-Device Charging.

Works With Your Favorite Cable And Apple, Samsung, Lg, Google And Many Other Qi Wireless Enabled Devices.

Supports Wireless Charging Through 10w Qi Wireless Output And Works Flawlessly To Wirelessly Charge Through Your Favorite Otterbox Cases And Screen Protectors

Led Power Indicator Displays Charging Status And Current Battery Life

Usb-A And Fast Charge Usb-C Ports And Qi Wireless Allow For Multi-Device Charging.

Works With Your Favorite Cable And Apple, Samsung, Lg, Google And Many Other Qi Wireless Enabled Devices.

Supports Wireless Charging Through 10w Qi Wireless Output And Works Flawlessly To Wirelessly Charge Through Your Favorite Otterbox Cases And Screen Protectors

Led Power Indicator Displays Charging Status And Current Battery Life

Suspendisse est nunc, laoreet eget odio id, finibus convallis ipsum. Praesent eu nisi egestas, gravida dolor eget, suscipit lectus. Class aptent taciti sociosqu ad litora torquent per conubia nostra, per inceptos himenaeos. Nulla tincidunt eu.

{'product_id': 116424, 'product_template_id': 112221, 'display_name': '[CY2681PCUSA] Cygnett Armour 2.0USB-C to USB-A 3A/60W 1M (Black)', 'display_image': True, 'price': 4.5, 'list_price': 4.5, 'price_extra': 0.0, 'has_discounted_price': False, 'arabic_website_description': '<p><br></p>'}