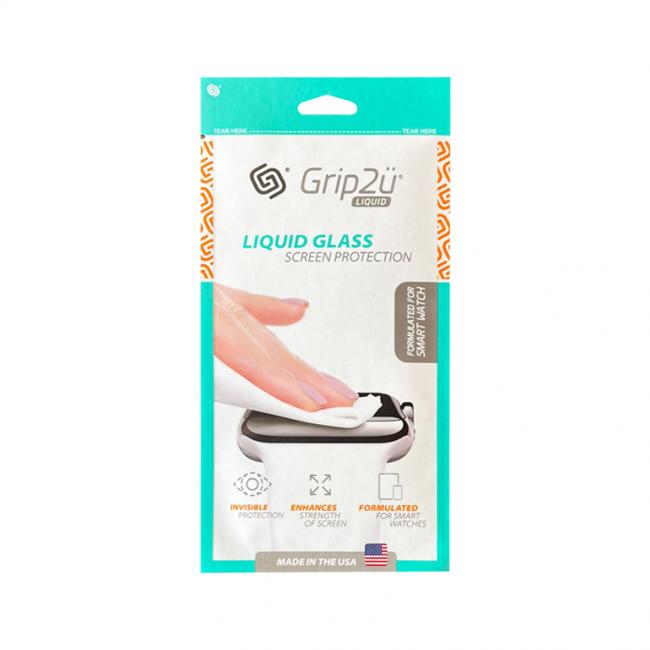 Grip2u Liquid Screen Protector for Smart Watch
---
This product is also available at:
Kuwait
---
---
Share this product:
TEAR HERE TEAR HERE INSTALLATION INSTRUCTIONS Use enclosed wipe to clean and prep the screen.
This will remove all germs, dirt and grease while also preparing your device's screen to properly absorb your nano liquid scréen protector.
Use the dry/buff cloth, found in the middle pouch, to remove streaks and excess liquid before moving to step 2.
Use enclosed wipe to spread your nano liquid screen protector across the prepared surface.
Move slowly, using vertical strokes, to apply evenly across the device's screen.
After applied, let dry for 15 minutes then polish using dry/buff cloth.
Your device is now ready to use, however, this nanotechnology takes 24 hours to fully cure.
Liquid Glass Screen Protection Grip20 Liquid Glass is made of silica dioxide (SI02) and these microscopic particles of glass are suspended in a liquid solution.
This completely transparent liquid screen protection bonds to the surface of your device's screen offering enhanced scratch, moisture, and impact resistance.
Bubble Free Application Simply wipe-on.
Completely invisible once applied.
Compatible with all smart watches.
CONTENTS: 1 Liquid Glass Screen Protector 1 Buff/Dry Cloth 1 Alcohol Prep Wipe.